The Arkansas Secretary of State handles business entities, elections, and the notary divisions on behalf of its residents. Its business directory is publicly offered to search an entity by its name, fictitious name, registered agent, or filing number (#). Users can view previously recorded documents and make additional filings (if an officer of the entity).
Business Entity Search
1. Go to the Arkansas Secretary of State website.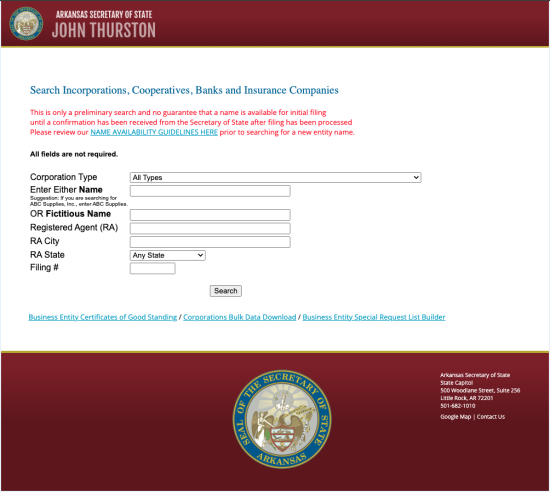 2. Use the Search Options
The business database can be filtered by entity type and by entering any of the following:
Entity Name
Fictitious Name
Registered Agent (RA)
RA City
RA State
Filing Number (#)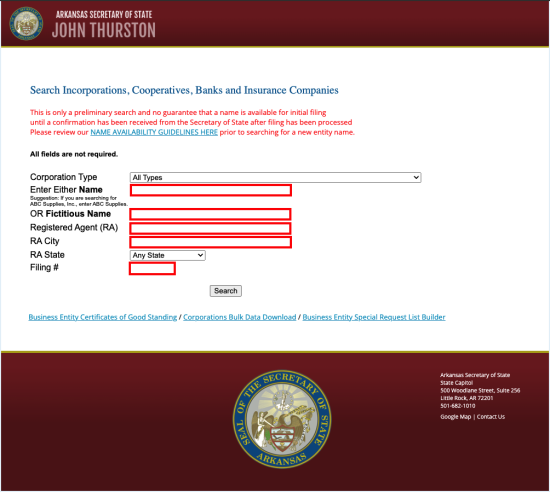 3. Select from the Records Found
After entering the query, the database will return all matching records displaying the entities by name, city, state, and the current status (e.g. good standing, dissolved, not current, etc.).
4. Business Entity Details Page
On the business details page, the information displayed includes:
Entity Name;
Fictitious Names;
Filing #;
Filing Type;
Status;
Registered Agent;
Date Filed;
Officers;
Foreign Name (if any);
Foreign Address (if any); and
State of Origin.
The officer or principal of the entity has the option to pay the franchise tax for the corporation.