The Colorado Secretary of State maintains an online database that can be queried using the "Business Entity Search" page. This tool can be applied to Businesses that have filed their status with the Colorado Secretary of State. A successful query can provide information such as an entity's contact information, its formal standing with the Secretary of State as well as its registered agent, and their contact information.
Business Entity Search
1. Access The Colorado Business Entity Search Tool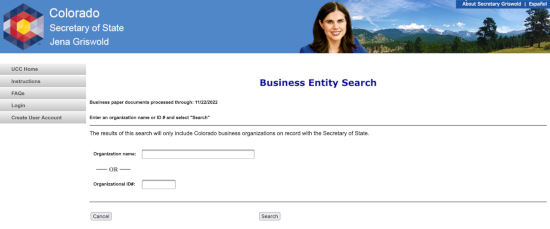 2. Utilize The Search Tool To Find A Colorado Business Entity
Satisfy the "Organization Name" search box by entering the name (partial or full) of the concerned business entity. Alternatively, a search may also be performed using the business entity's ID number by supplying it to the text box labeled "Organizational ID#" but we will conduct a search by name.
After supplying the searchable item, select the button labeled "Search."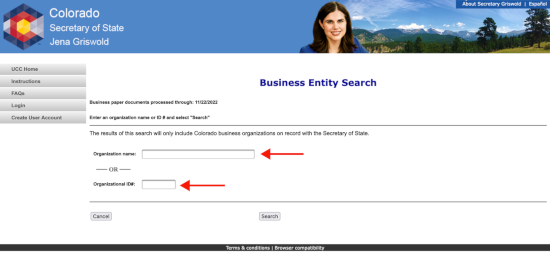 3. Select The Appropriate Entity For Review
Review the new page that delivers your search results and seek out the Colorado business entity name. Verify this entity as the one you are looking for using the columns provided.
Use the mouse to select the Colorado ID Number listed in the first column to view the details available for this business.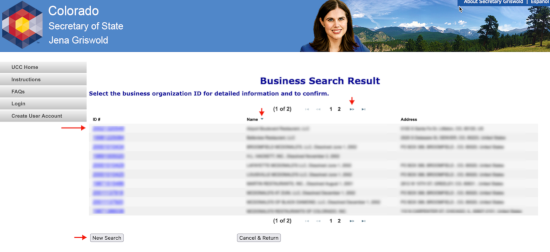 4. Review The Selected Business Entity's Details
Look for and then obtain the details you require from the  "Organization Record Confirmation" page. Here, the business entity's name and contact information along with its registered agent's name and contact information are displayed with some basic details.
ID Number
Name
Principal Street Address
Principal Mailing Address
Registered Agent
Registered Agent Street Address
Registered Agent Mailing Address
Status
Form
Jurisdiction
Formation Date
Run an additional search for transactions conducted by the business entity by selecting the "Confirm" button.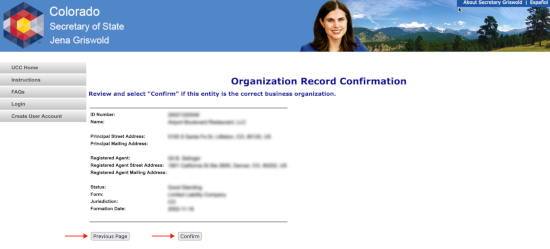 5. Optional: Perform A Standard Search On The Business Entity

The "Standard Search" may be conducted on both business entities and individuals (i.e. independent contractors) however, our example shall focus on registered business entities.
Supply the name of the concerned entity to the first text box of this page.
This search will only produce a record of current financial records. To include transactions that are older, check the box at the bottom of the page. Selecting this checkbox will include transactions that are up to two years old.
When ready, select the button labeled "Search."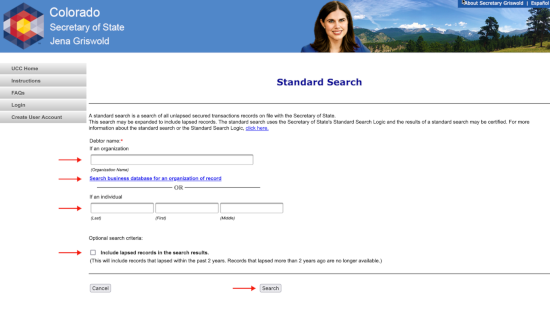 6. View Current Business Entity Transaction Records
The next page shall display the entity's current transactions by document number. This table will allow its content to be sorted in ascending or descending order using the arrows provided in the column headings. To quickly view a transaction, select either its "Document #" or its "Record #."
Document #
Date
Debtor
Secured Party
Type
Record #
Lapse Date
Select each checkbox corresponding to a transaction you wish to view. Then, indicate how the content should be presented by choosing the appropriate format option.
View Report
View Images
View Report & Images