The New Mexico Secretary of State Corporations And Business Services makes its database of registered New Mexico business names available to the public. Therefore, anyone wishing to determine if a particular business name has been registered in this state can use this tool. Additionally, the business entity search tool the Corporations And Business Services division maintains makes it possible to obtain the public details of a New Mexico entity.
Business Entity Search
1. Visit The New Mexico Business Search Page

2. Dispense The Criteria For Your Search
You have the ability to search for an entity name whether the exact name or a part of it is available to you. Before you continue, select the radio button to define the search item you will use.
Click on the radio button corresponding to the first text box to seek a New Mexico business's name.
Input the New Mexico business name being checked in the first text box.
Complete the requirements to fulfill the bot check.
Once you have confirmed that you are a public user, click "Search."

3. Review The New Mexico Business Search Results Table
Scroll through the table results for your New Mexico business name query. Note that different entity types will be in different tables on this page. Thus, review this entire page and the content of each table.
Entity Name
DBA Name
Business ID #
Entity Type
State Of Incorporation
Sovereign
Status
Date Of Expiration
Partnership/LLP Search Results
Entity Name
Business ID #
Entity Type
Registration
Status
Date Of Expiration
Once you have located the New Mexico entity name to review, select it (from the first column).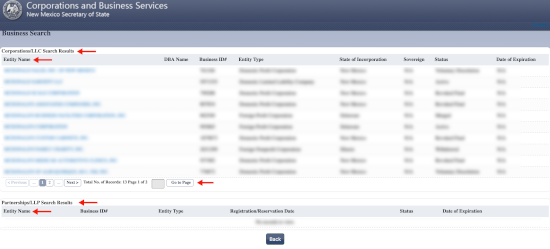 4. Obtain The Entity Details From The Search Information Page
Look through each section of the New Mexico entity details page until you find the items you seek. You will find most of the basic information in the first two sections.
Entity Details

Business ID#
Entity Name
DBA Name
Status
Standing

Entity Type And State Of Domicile

Entity Type
Benefit Corporation
State Of Incorporation
Statue Law Code
Review the next few sections to review its history records.
Formation Dates
Reporting Information
Period Of Existence And Purpose And Character Of Affairs
If the New Mexico entity's standing is threatened by overdue filings, then you can view such information in the next area.
Outstanding Items
Reports
Registered Agent
License
Contact Information
Mailing Address
Principal Place Of Business In New Mexico
Secondary Principal Place Of Business In New Mexico
Registered Office In State Of Incorporation
Principal Place Of Business In Domestic State/Country
Principal Office Location In NM
Obtain the processing or registered agent's contact details using the appropriate area.
Registered Agent Information

Name
Geographical Location Address
Physical Address
Date Of Appointment
You have the ability to review various officials in the New Mexico entity using the next areas.
Director Information

Officer Information
Organizer Information
Incorporator Information
Trustee Information
Finally, direct your attention to the bottom of the details page to gain more information regarding the New Mexico entity's history.
Filing History
License History