The North Carolina Secretary of State business entity search engine gives its users access to the filing details of North Carolina businesses. Naturally, businesses would have had to file with the North Carolina Secretary of State to operate in North Carolina. Such registration will be discoverable through this query page. Keep in mind, that when engaging this search, it is recommended to have as much information regarding the entity on hand as possible since this will aid in defining reliable criteria for the search.
Business Entity Search
1. Go to the North Carolina Business Entity Search Page
2. Fulfill The Query Requirements
Before beginning the business entity search, some basic parameters must be supplied. Two drop-down lists will enable this definition. Select the first option from each list to continue.
Select What You Want To Search

Company
Registered Agents
Company Officials
Assumed Business Name
Select the first option from the second drop-down list.
Select How You Want To Search
Conduct the query using the "Search" button.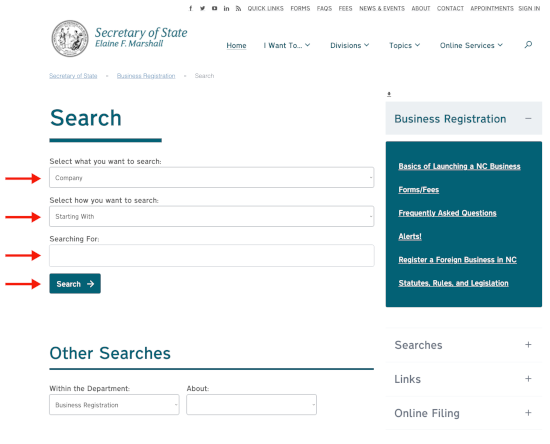 3. Review The North Carolina Search Results Table
The table produced on the next page will deliver the matching entities. Use this table to review the name of the business each record discusses. Then upon finding the concerned North Carolina entity, select its name.
Entity Name

SOS ID
Date Formed

 

Status
Obtain the annual report of the concerned entity from the final column if desired.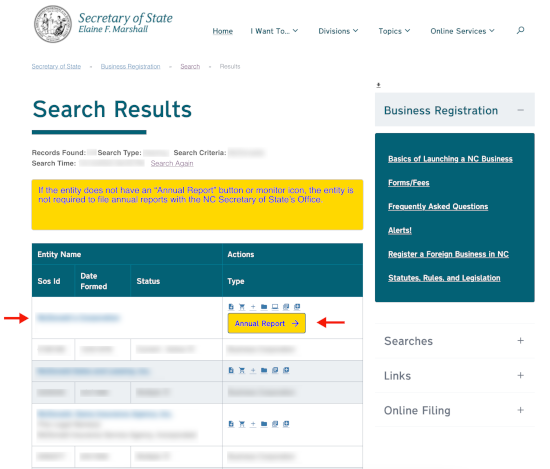 4. Review The North Carolina Entity's Details
Confirm that this is the North Carolina entity sought.
Scroll to the next section to gain the information needed regarding the North Carolina entity.
Information

SOSID
Status
Date Formed
Citizenship
State Of Incorporation
Fiscal Month
Annual Report Due Date
Annual Report Status
Registered Agent
Direct your attention to the following section to obtain the location and mailing address of the North Carolina business.
Addresses

Mailing
Principal Office
Reg Office
Reg Mailing
You can view the North Carolina entity officers using the appropriate section.
Officers

Senior Vice President
President
Corporate Secretary
Look through the final section for the North Carolina entity stock information.
Stock

Class
Shares
No Par Value