The Vermont Secretary of State keeps a database of business entities registered to operate in this state. Additionally, the office provides a business entity search tool geared to finding and displaying a Vermont business entity's public filings and contact material. Users may choose to conduct an express search or an advanced one when seeking a particular Vermont business entity using this tool.
Business Entity Search
1. Go To The Vermont Business Entity Search Page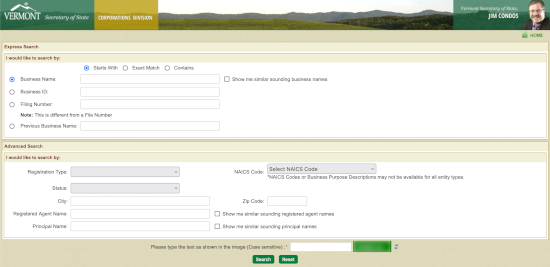 2.  Utilize One Of The Business Entity Search Tools Available
Determine the type of search you would like to conduct.
To perform an express search, locate the radio buttons defining your search items placement in the Vermont business entity's name then select the appropriate one. 
Starts With
Exact Match
Contains
Click the "Business Name" radio button then type the Vermont business name you wish to find, part of it, or a word it contains in the first text box presented. Notice this option allows you to spell the search item phonetically once the appropriate check box is selected. 
Business Name
Business ID
Filing Number
Previous Business Name
If you would like to supply additional filters or criteria then focus on the "Advanced Search" option before continuing. Here, you can utilize one of the drop-down lists as a filter for your results or supply items the Vermont business entity should possess. If you do not wish to apply these advanced options then leave this area blank
Registration Type
Status
NAICS Code
City
Zip Code
Registered Agent Name
Principal Name
When you are ready to run the query on the Vermont business entity, type in the appropriate code and click "Search."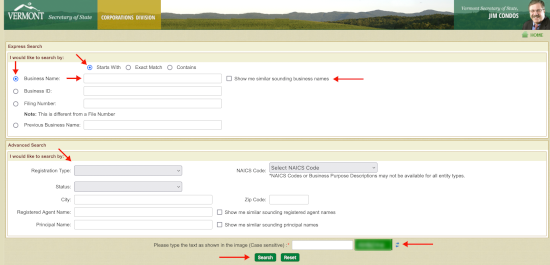 3. Check The Results For The Vermont Business Entity
You should investigate the table that is presented because every row will display one Vermont business entity that matches your results and every column will provide additional information. Find the queried Vermont business then click on its name. 
Business Name
Business ID
Business Type
Principal Business Office Address
Registered Agent Name
Fiscal Year Month
Status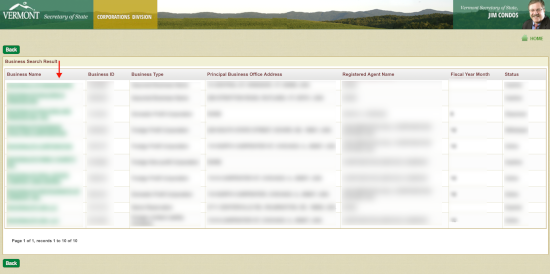 4. Collect The Required Information
Gather the information needed on the Vermont business entity from its "Business Information" page. Notice that the information has been dived by section so that the status and address of the information are presented separately first.
Business Details

Business Name
Business ID
Business Type
File #
Business Type
Business Status
Date of Incorporation/Registration Date
Business Description
Fiscal Year Month
Principal Office Business Address
Principal Office Mailing Address
Citizenship/Domestic Jurisdiction
Last Annual Report Year
Last Report Filed
Next Filing Due Date
Continue down the page to investigate the parties responsible for the Vermont business entity and its registered agent.
Principal Information

Name/Title

 

Physical Address

Registered Agent Information

Name
Physical Address
Mailing Address
Agent Type
Conclude your review with the additional information provided at the bottom of the page.
Other Addresses

Address In State Of Formation

Assumed Business Name Information
Optionally, you may continue with some historical material using the buttons provided or return to your search.
Filing History
Name History
Shares
Return To Search